After a long and exhausting week of work or school or caring for the kids, sometimes we all just need a little fun and adventure, an overnight or weekend away with the girls to recharge our bodies, minds, and souls.
Any trip needs a reliable travel companion so that we get all our belongings in place, items are not missed, and we are not stressed! We don't want our short vacation to be over before it even started.
And to get that full relaxing experience for your next trip, it's only essential to purchase the best weekender bag that first, fit your needs. It should be spacious enough to fit all your belongings and organized so that you are confident that you've packed all you need.
Second is it's durable! You want to get your money's worth and you want it to last long enough to make memories with you. And third, of course, we would want it to have that flair! As they say, you always want to travel in style.
Weekender bags are the best options for, of course, a weekend getaway. These are versatile and practical luggage pieces purposely designed for short trips and perfectly blend functionality and style.
These are big enough to store all your needs – a few days worth of clothing, hygiene products, your skin care must-haves, and even a bit of your glam.
Weekenders are also designed to be compact making it easy to store in compartments. They have short handles that are easy to grab and some brands put in longer straps to ease and balance the weight of the bag when you hang it across your body. Since these are for travel, most of these are also waterproof and made of durable material to make sure that all your things are protected and secured.
Here is a list of weekender bags you would want to consider for your next getaway.
The Most Recommended Weekender Bags In terms of functionality and style, there are two highly recommended brands for your weekender bag: Herschel and Everlane. I bet you that you can never go wrong with these!
Taken directly from its website, this Canadian brand aims to create a timeless product with fine regard to detail. They are popular among young adults (18-35 year olds) offering retro "hipster" backpacks. It has actually become a household backpack brand with over a million backpacks sold every year across 70 countries.
Aside from the nostalgic and revolutionary design, Herschel also prides itself with high quality and environment-friendly material.
Herschel also has expanded its arsenal to travel or weekender bags. One of the most popular weekenders of the brand is the Herschel Novel Duffle Bag.
Herschel Novel Duffle Bag
Capacity-wise, this duffel bag offers two sizes in the mid-range volume, one in 33-liter capacity and another in 42.5-liters. If you're going for a light packed weekend trip, a mid-range would probably be enough for you. This variant is not one for longer travels (unfortunately) as it has few to no pockets to get you organized for a week-long trip.
So if you're fussy about organized stuff, you might want to skip this one. But if you're not, and it's just for a weekend (really), this is a decent choice.
Herschel uses premium quality material and their duffel bags are given that same attention. The Novel Duffel is made of polyester and features a sturdy body. This is a good detail as it remains upright and looks full even when it's empty. Thus, it does not deform even when you don't completely fill it up.
It is also equipped with a two-way waterproof zipper and a shoe compartment opened from the outside. For carrying, this duffel bag gives you two options. One is a grab handle and second is a padded wide shoulder strap.
It's more affordable than most duffle bags of this capacity and style priced below $100. Final thoughts? If you're looking for a mid-range, quality, and stylish weekender bag, go ahead and give this one a try.
And there's also the Everlane brand which is also a definite must-have.
Everlane is an online American clothing retailer well-known in the industry as a pioneer in the creation of a newly defined luxury and a democratic accessibility of quality. Everlane is using its platform to show customers a glimpse of how people work in the factory. It's a company that encourages expression and provides a medium for workers' voices. And last but not the least, it's a company whose mission is to sell their products with transparent pricing.
The Everlane's Twill Weekender Bag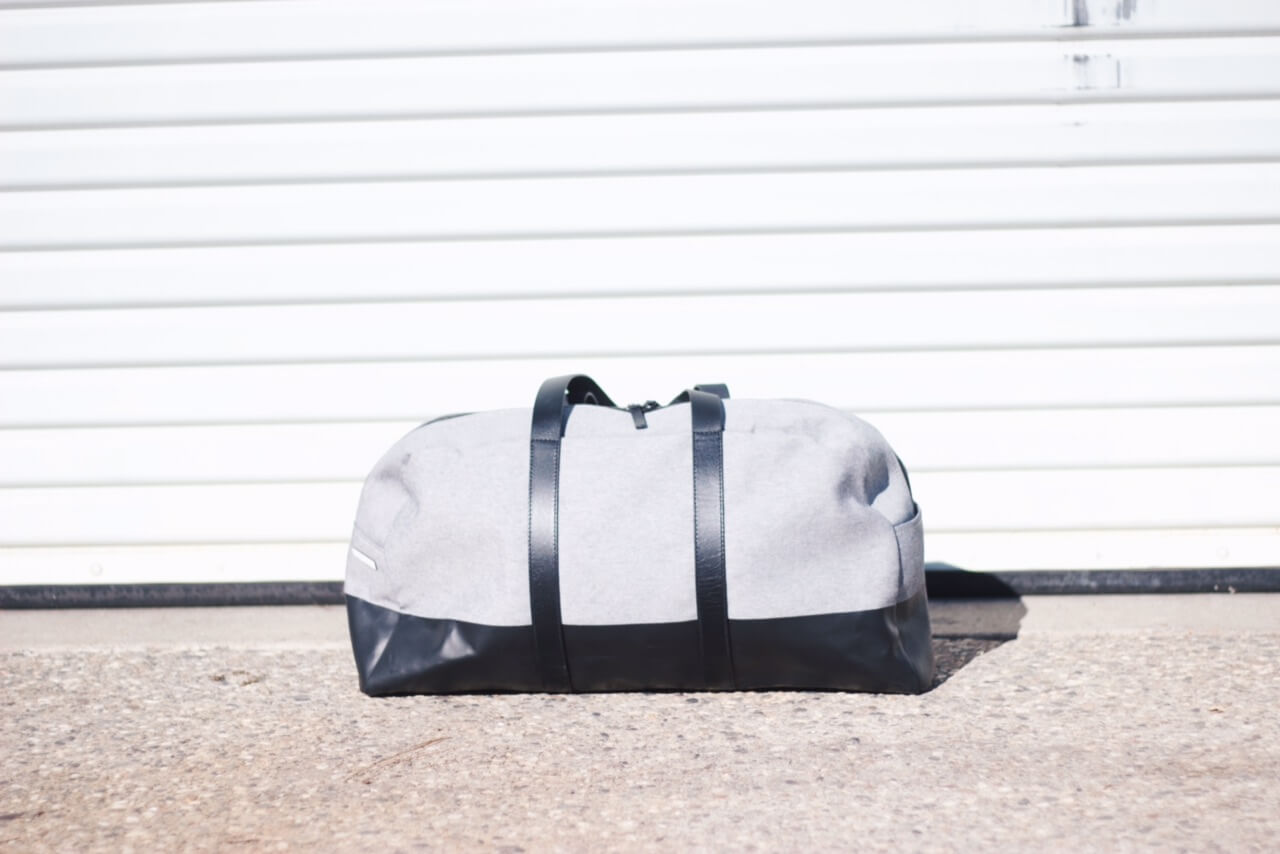 The Everlane Twill Weekender sports a minimal and classic style. It's made of 100% water-resistant cotton twill exterior and is proven to be thick and sturdy – you can rest knowing that your items are well-protected. It has an interior pocket and also a tiny pocket outside which some find very useful storage for small items like phone chargers. Since it has only two pockets, the bag feels very roomy. They come with strong leather straps although unfortunately it has not yet innovated to have long crossbody straps.

For The Adventurous
If you're an adventurous soul who looks forward to camping or hiking for a weekend getaway, you'd need a sturdy travel bag. One brand that stands among the rest is North Face.
North Face was established in the 1960s and is very popular among avid outdoor enthusiasts as a brand that provides high quality and high performance outdoor gear and equipment. As North face states in their story, they continue to push the boundaries of innovation so that you can push the boundaries of exploration. One of its most recommended women travel bags is the North Face Base Camp Duffel.
The Base Camp duffel as North Face says is not your average duffel bag. It's a 50-liter bag which features an exterior zip pocket which can securely keep your important items. It's made of durable laminated material and can surely withstand the roughest conditions. They are very reliable, durable, and stylish as well! Price-wise, you're definitely getting your money's worth. It comes in different colors and variations, a wide-range of choices to get what you prefer.

For The Fashionista
If you're looking for a weekend bag that definitely screams style, then the Longchamp Le Pliage Expandable Travel Duffel Nylon Weekender.
Longchamp is a French leather goods luxury brand founded in 1948 Paris. In 1971, the brand debuted its first handbag and also became the leading leather goods manufacturer in France. By this time, the company also adopted the use of nylon into their goods to make them lightweight. This brand innovation paved the way for their signature folded bag known as the "Le Pliage". It became an instant favorite in the industry and has been in different colors and sizes and other variations such as the introduction of its duffel bag.
This duffel bag is made of water-resistant nylon and just like any nylon-based material, this one is also very durable. It's designed with double handles and a removable adjustable canvas shoulder strap which provides two options for carrying it.
Aside from that remarkable feature, it's also very versatile and has three sorts of phases. It can be folded and pouched which makes it very easy to store and also very space-efficient. It can be zipped – the normal Le Pliage and finally it can be unzipped and expanded.
When unzipped, the bag increases about 6.5 inches in height and gives 1.5 times more of space than your regular duffle bag. It's quite pricey at $255 but it's very functional and stylish so I guess that the price is worth it.
Aside from the Longchamp Le Pliage, another luxury brand offers a stylish weekender bag: Gucci.
Gucci is a famous Italian luxury brand with a 90 years of history in the fashion industry. It's known for its handbags and is seen as a symbol of wealth and abundance. For stylish travelers, the Gucci Ophidia GG Supreme Logo Weekend Bag is a perfect fit.
It's Gucci so first, it's expensive. This bag costs approximately $1700 but if you have money to splurge, then go ahead. It's a weekend bag perfect for your city getaway patterned in the Supreme GG motif trimmed with the iconic red and green stripes of Gucci and a gold-tone metal signature logo plaque. It's a spacious taupe-grey canvas with a brown leather handle and long crossbody strap.
Budget Weekender
Weekender bags can be expensive especially if you're looking for one that is large and durable. But fret not, there are also budget duffle bags that you can explore.
Priced at $49.99, the Newhey Travel Duffel Bag is a good choice for a budget traveler. It's a genuine leather travel duffel with a high density canvas – that means it doesn't rip or tear – giving it high durability. It has an oversized large main compartment fit for 2 days more of a weekend and unlike most duffel bags, this brand offers inner pockets for various items.
It has rounded handles that provide ease with use and carry. It also has an adjustable strap, perfect for convenient carrying. For 50 dollars and all these features, I'm sure that this is a worthy purchase.